| | |
| --- | --- |
| Developer | Cranberry Limited |
| Licence | Free |
| To download | Free download |
CDBurnerXP is a useful CD burning program for Windows. This free and open-source application can handle CDs and DVDs as well as HD-DVDs and Blu-rays. Equipped with a multilingual interface, it is suitable for everyone from everywhere, including your business.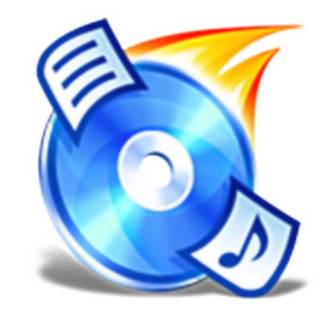 Although it has XP on its name, this disc burning tool is not specifically designed for Windows XP. Instead, you can use it on other Windows versions like Windows Vista, Windows 2000, Windows 7 and above, whether 32-bit or 64-bit.
Features of CDBurnerXP
This versatile application includes a number of features to help you burn and create ISO images to CD or DVD. It also has a full set of features for creating data CDs and audio CDs directly from your Windows computer. Here are several things to find in this CD burning tool.
1. Disc spanning
Disk striping is a key feature that promotes efficient data distribution. When the capacity of your images exceeds the total capacity of one CD or DVD, this feature automatically splits the file across multiple CDs or DVDs. The same principle also works on Blu-ray.
For example, your file is up to 20 GB. If you are using a 4 GB disc, you will need to spread the data across five different DVDs. This is a great feature that allows you to get rid of manual data distribution which can be cumbersome. Moreover, it has the ability to stream the data better than you.
2. Support multiple disc types
You can burn all data to a range of discs such as CD-R, CD-RW, DVD, DVD-RW, HD-DVD and dual-layer media. It also supports M-disc which allows you to keep data for up to 1000 years. This is a cool feature that lets you create permanent backups.
3. Create an ISO file
Burning and creating ISO files is brilliantly easy with CDBurnerXP. This application allows you to burn and create ISO images from files on your hard drive or optical discs. Of course, the way to burn ISO files from these sources is different.
When working with files from the hard drive, you will need to create a compilation of files using Create Data Disc. But if your files are from a disc, just insert your CD or DVD and go through Copy Data Disc.
4. Supports multisession
Additionally, the disc burning program offers multisession to improve space efficiency. This key feature allows you to add files to the same DVD at different times. So you don't have to waste too many disks for small file sizes.
Recommendation:
Download Gedit
For example, you want to burn a 1 GB file to a 4 GB DVD. This multi-session feature allows you to use the remaining 3 GB to store other files in the future. It is convenient for saving discs and space.
5. Data Verification
Data verification is one of the best features to be found in this app. It allows you to check the data after the burning process to ensure that all data is well burned and readable. You can have this verification function run automatically after burning by choosing the Verify data after burning option.
6. Multiple languages
There is nothing to fear from language barriers. This program is designed to support multiple languages ​​so that you can use it easily without difficulties. Choose a language of your choice during installation, such as English, Spanish, or Indonesian.
7. User-friendly interface
While some disc burning applications come with a complex and confusing interface, CDBurnerXP is an exception. It has a simple and clean interface which makes it easy to use for everyone. Once launched, you will see menu options that can be chosen according to your preferences.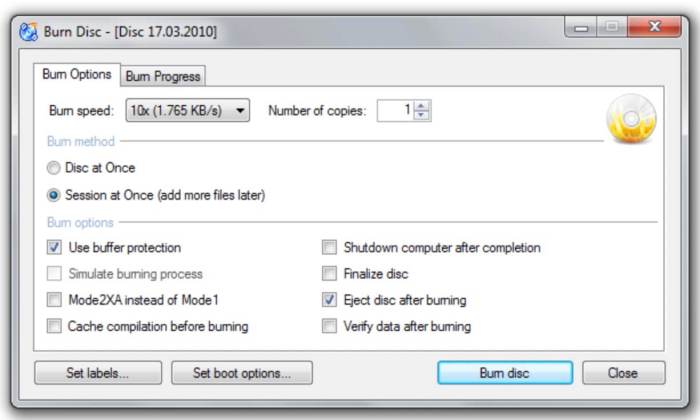 How to Burn CDBurnerXP ISO Image
This program offers a quick and easy way to burn an ISO image. Whether you need to create a data backup or just want to try this application, you can burn an ISO image in seconds. To use this application, you will need to download and install it on your Windows.
After installing this application on your computer, you can make a data or audio project. Follow the step-by-step instructions below to burn an ISO image.
Insert a blank disc into your computer.

Launch this application and choose

Burn an ISO image

menu option. Click on

Okay

.

Next, select an ISO file from your local drive. Press a button with three dots.

You can choose Disc at Once in Burn Method and Finalize Disc in Burn Options.

Once everything is ready, click on the

Burn a disc

button.

If you configure the application to verify after burning, you will need to verify the data after the process is complete.
Your ISO image is now created. You can mount the ISO file whenever needed. What if you don't have an ISO file? This program allows you to easily convert images to ISO with just a few clicks.
Do you need a handy disc burning program? CDBurnerXP can be a good bet. Whether you need to create a data project, an audio project, or burn ISO images, this app has you covered.
Download the latest version of CDBurnerXP