This article teaches you how to expand system partition in Windows 11. Follow the tutorial, you can expand Windows 11 system partition without partition format and reinstall system.
Unlike previous Windows systems, Windows 11 requires much more disk space, due to its unique feature: Windows Subsystem for Android. The Windows subsystem for Android does not allow users to customize the installation path, so you must install the Windows subsystem for Android and the APK files on the system drive.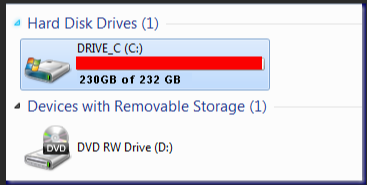 As we know, Windows Subsystem for Android is a virtual Andorid system, based on Windows 11 Hyper-V feature. And a virtual system always takes up a lot of disk space, usually more than 30 GB. What's worse, the apk file size of Android apps keeps getting bigger, especially games. The single Android game occupies 500MB – 10GB. Therefore, the used disk space of the system partition may soon run out.
I have written an article on how to customize the Windows subsystem file path for Android in Windows 11. You can move the Windows subsystem install path for Android to another partition. However, complex actions are required, not everyone is willing to do it. So the easiest way is to expand the Windows 11 system partition.
Windows 11 has a built-in partition volume shrink feature. However, it only supports cutting free disk space from one partition and then creating a new partition using this unallocated space or merging the unallocated space with the adjoining partition. You can check out How to resize partitions in Windows 11, see if that works for you.
Years ago, I worked for a software company that encodes partition software, and I know this field very well. Check out the following three partition software that allows you to resize / expand the system partition without system reinstallation requirements.
EASEUS Partition Manager Free Edition
Minitools partition wizard
Aomei partition wizard
This three partition software has a free edition for home users. You don't need to pay to use. And they actually come from one company, but some engineers created two others. So they are very similar to each other. Please refer to the following article to see how to expand system partition in Windows 11: Best Windows 11 Partition Resize Freeware