As we all know, Windows 11 has very high levels of built-in features, including Microsoft Remote Desktop Connection. With this function you can connect a PC to an add-on system from anywhere.
With the help of Microsoft's Remote Desktop Connection feature, you can access your system remotely as long as your computer is on. In this article we will help you learn How to enable remote desktop on a Windows 11 PC or laptop, and add users and allow it on Windows Firewall.
What is Remote Desktop in Windows 11?
The remote desktop protocol has revolutionized the modern dynamics of the IT industry and business functions. This technology improves customer satisfaction and work efficiency, and reduces employee turnover and maintenance costs.
Microsoft Windows comes with a remote desktop connection tool that you can use to connect to another system from anywhere. In the new Windows 11 it is disabled by default.
If you enable it on your Windows system and allow remote connections to your PC, you can use another device to connect to your PC and access all of your applications, files, network resources, etc. from anywhere.
Users use remote desktop access features to do a variety of things, including the following:
Access a work computer from home or while traveling.
Access a home computer from other locations.
Fix a computer problem.
Perform administrative tasks.
Demonstrate something, such as a process or software application.
How to set up remote desktop in Windows 11
Windows 11 is the latest version of Windows and also the successor to Windows 10. If you don't know how to configure and use Remote Desktop in Windows 11, this article will be very helpful.
Enable Remote Desktop on a Windows 11 PC or laptop
To enable or allow Remote Desktop Connection in Windows 11, open the Settings page by clicking the Start button and selecting the Settings gear icon.
Next, scroll down and tap on the Remote Desktop option.
Now activate or activate Remote Desktop in the Remote Desktop window. When this is enabled, you can connect and use the PC with the Remote Desktop app from another device.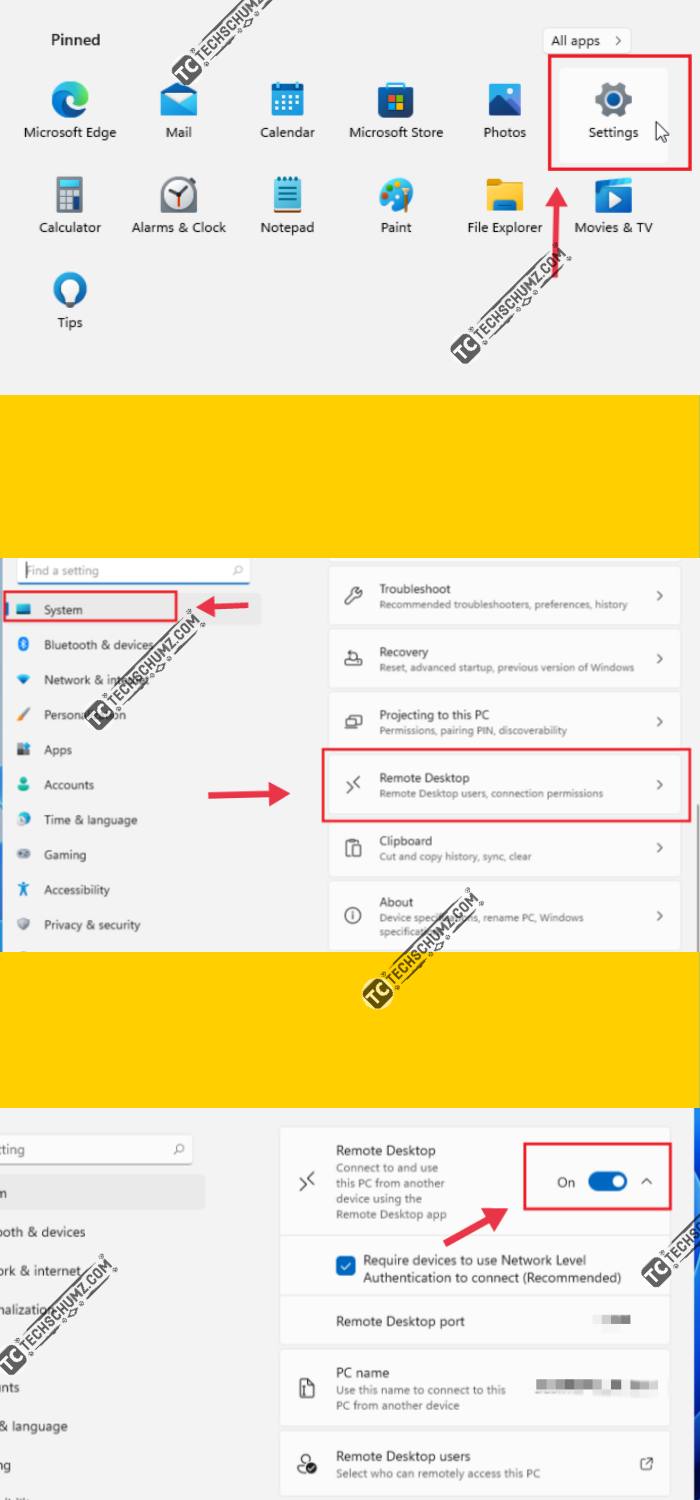 By default, the first account created on the computer is automatically added to the Administrators group. Users who want to connect via Remote Desktop must be a member of the Administrators or Remote Desktop group on the local PC.
Add users to the Remote Desktop Users group on Windows 11
To add users to the Remote Desktop Users group, open the Settings page with Windows + I Keyboard shortcuts.
Next, scroll down and tap on the Remote Desktop option.
Now, on the Remote Desktop window, tap the highlighted link Remote Desktop Users.
After the window has opened, click on "Add".
Now start adding users to connect to the computer remotely.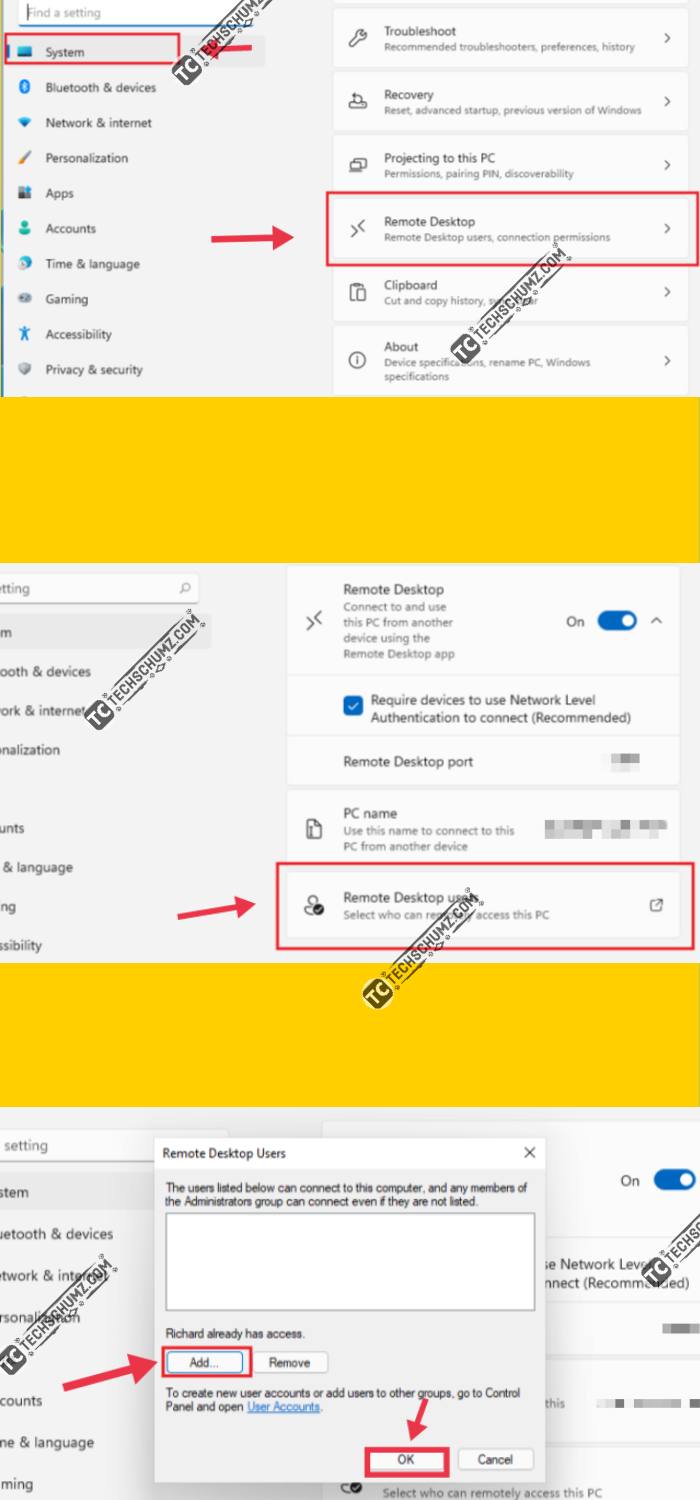 That should do it!
Allow remote desktop on Windows 11 firewall
Whichever option you choose to configure a remote connection on your computer, you will need to adjust the remote desktop settings in Windows Firewall. If you do not allow this in the firewall, any incoming connection to your device will also be blocked. To configure the firewall settings:
Open the Control Panel.
Tap Windows Defender Firewall.
In the left pane, click the "Allow this app or feature through Windows Defender Firewall" option.
Next, tap the "Change Settings" link.
Scroll down and check out the 'Remote desktop ' and 'Remote assistance Options.
Remember to check the options for both Private and Public and press OK.
Finally, restart your PC for the changes to take effect.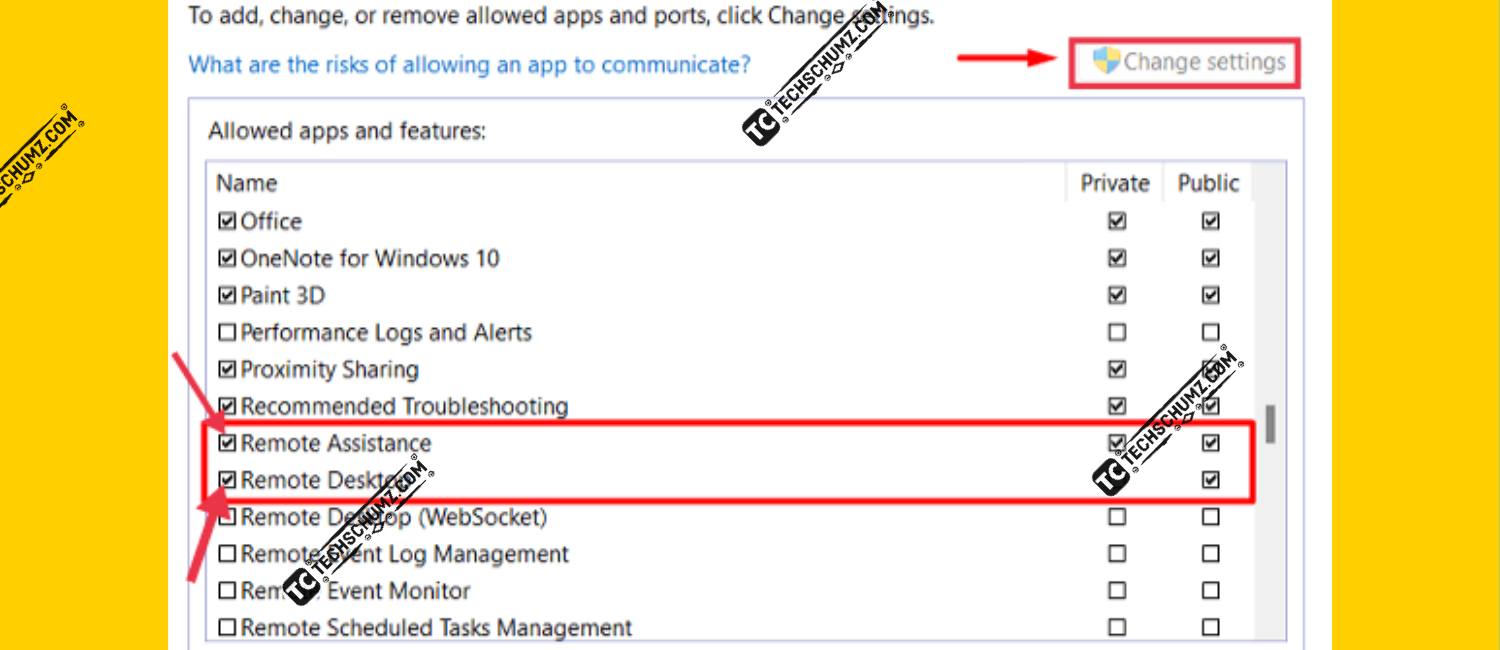 last words
This is how you can enable remote desktop on Windows 11 PCs and laptops, add users and allow them in the Windows 11 firewall. By following the steps above, you can use a remote desktop connection app on Windows 11 and you don't have to use a third-party app to do so. We hope this article has helped you set up a remote desktop in Windows 11. Much luck!
---
Also read:
How to remove a Microsoft account from Windows 11
How to turn off Microsoft Edge on a Windows 11 PC