| | |
| --- | --- |
| Developer | VideoLAN |
| Licence | Free |
| To download | Free download |
Formerly known as VideoLAN Client, VLC Media Player is an open-source and free tool to play most media files. The cross-platform software supports major desktop operating systems such as Windows, macOS, and Linux. It is also compatible with mobile platforms including android and iOS.

This software has been around for a while. Shipped around two decades ago, it has now become a considered media player with millions of users worldwide. Currently, VLC supports most file formats including streaming protocols.
VLC Media Player Features
Playing media files and streaming media over computer networks is easy with VLC. Thanks to the many features integrated into the software, such as support for most file formats, advanced control, etc. Here's an overview of the features to leverage your experience.
1. Support major formats
VLC allows you to play audio, video and streaming protocols with different formats. Depending on the operating system, it can play a myriad of formats, including container formats, audio encoding formats, video encoding formats, digital camcorders, network protocols, and network streaming formats.
The software also has the ability to transcode audio and video to many formats, such as WebM, WAV, AAC, FLAC, MP3, MPEG, DV, and streaming protocols such as HTTP and MMS.
2. Advanced control
As one of the best media players, VLC comes with a set of control features over video and audio. It has audio effects that let you adjust the equalizer and add filters for a more immersive experience. You can also enhance the video with preloaded filters as well as sync subtitles.
3. YouTube Downloader
If you want to watch a new video but don't have one in the library, VLC lets you stream and record videos from YouTube. It has an inbuilt feature that lets you paste the URL and play the video in the player. Open the codec information, copy the URL from the location box and save the video to your device.
It's not a one-click YouTube downloader, but it works well to enhance your video collections. The next time you need to watch the video, do so without an internet connection. Along with the download function, it allows you to record the video and save it to your computer.
4. Audio normalization
In addition to audio control, VLC Media Player comes with audio normalization to optimize volume. This feature helps protect your ear when playing any media by improving sound quality. Go to Tools and adjust the volume to your preference. It will adjust the decibel levels of audio in movies.
Once adjusted, close and relaunch the software to activate the new setting. Get a better experience in your favorite movies and protect your ears.
5. Stream Podcasts and Internet Radio
VLC lets you play podcasts and Internet radio without having to download separate software. You can search for favorite radio stations or copy the URL of the station to stream if it is not available in the list. And if you want to play podcasts via VLC, just go to Playlist and choose Podcasts option.
6. Loop Specific Section
The loop is standard in most media players. But with VLC, you'll have the added bonus of looping. Rather than looping an entire soundtrack or video, this media player loops a specific section of the file. Use the advanced commands in the View menu and choose specific parts to start and end the loop.
This feature is handy for reviewing a video tutorial or listening to an important audio file. So you don't necessarily have to click play and pause buttons repeatedly.
7. VLC Addons and Extensions to Add Features
If you are not feeling enough with the default features, VLC has got you covered. Extensions, skins and other tools are available to upgrade your software, thanks to the open source community which continues to update features. These extensions add various tools to the media player so you can double the fun.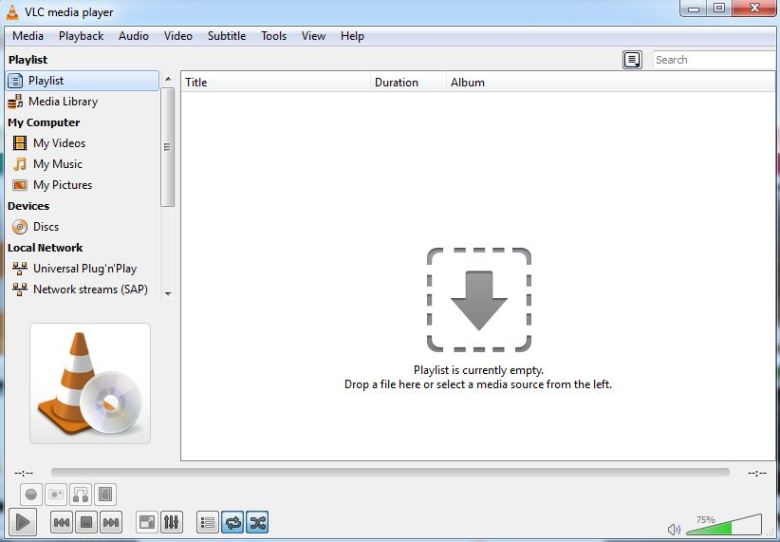 How to Use VLC Media Player
VLC is basically an easy-to-use media player. It comes with a simple interface that makes it easy to use even for beginners. But if you don't know where to start, you need a short guide on how to use it. You can refer to these instructions.
Download and install VLC for your operating system. The player installer is quite simple and you don't have to change any options during the installation process.
Load a video or sound into the player. You can drag a file from the local drive and drop it into the drive window. The file will be played automatically.
Adjust to your preference. Adjust audio, sync subtitles or change display options right from the menu bar above the top of the screen.
Enjoy your favorite soundtrack or movies via VLC.
VLC Media Player is unquestionably a decent media player for everyday use. Not only does it let you play audio and video in many formats, but it also supports streaming protocols for major platforms. Download this versatile player and see how it changes your multimedia experience.