| | |
| --- | --- |
| Developer | SoftMaker |
| Licence | Test |
| To download | Free download |
SoftMaker Office 2023 is a cross-platform office suite available on Windows, Mac, Linux and Android. Originally released in 1994 by SoftMaker Software, it is one of the oldest programs to face stiff competition in the office suite markets.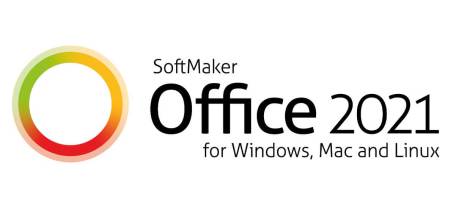 The office application is loaded with a number of programs including TextMaker, PlanMaker and Presentations which are compatible with MS Word, Excel and PowerPoint consecutively. It also includes other programs like BasicMaker, DataMaker, and FlexiPDF to perform more tasks.
SoftMaker Office 2023 Key Features
Feature-wise, this program is similar to its office suite counterparts like LibreOffice or WPS Office. However, several key features set SoftMaker's product apart from others. These features include:
1. Compatibility with MS Office without compromise
It supports full compatibility with Microsoft Office documents from Word to PowerPoint to Excel. You can skip the hassle of importing and exporting, thanks to a wide range of file formats supported by this program. You can also experience lossless document exchanges for every application.
This feature allows you to enjoy seamless document exchanges. Whenever you need to view or edit SoftMaker documents in MS Office, you can easily open and edit them directly without conversion.
2. Powerful language tool
Get rid of language barriers with a professional language tool in TextMaker. It has a powerful built-in spell checker that lets you find spelling mistakes in 75 languages. With just a few clicks, your text document is free of spelling mistakes.
To ensure professional text documents, this application is integrated with a thesaurus that supports 10 different languages. Using this feature helps you find the right variation words or synonyms.
3. Desktop Publishing Features in TextMaker
TextMaker is added with desktop publishing features that allow you to easily make creative projects such as invitation cards, flyers or posters. You can add unique objects or frames to the document to create attractive results.
With this functionality, SoftMaker Office 2023 is ideal for a wide range of uses at home, at work or at university. You can also take advantage of other features like automatic marks for folded pages, unique document templates, and image captions.
4. Attractive worksheets in PlanMaker
PlanMaker is a spreadsheet program compatible with Microsoft Excel. Compared to its counterparts packaged in LibreOffice or OpenOffice, this program offers a different experience with attractive spreadsheets that can be designed quickly.
Use conditional formatting that highlights values ​​in different colors. You can play with the colors to create a gradient to indicate each value. It's a great way to present a better visualization while presenting data.
5. Awesome Animations in Presentations
If you're familiar with PowerPoint, you'll pick up this program right away. It allows you to create attractive presentations with impressive animations. There is a large collection of slide animations and transitions with OpenGL graphics acceleration.
With this feature, you can easily turn every presentation into an attention stealer. Not only can you work with text, but you can also use tables, charts, and graphs to showcase upcoming projects or plans. It also has some features found in PowerPoint like AutoShapes and TextArt.
6. Presenter display in presentations
Presenter View is a unique feature that allows you to split the screen into two. The first screen is shown to the audience on a monitor while the second screen called cockpit is used to control the presentation. With it, you can easily navigate between slides and even add annotations.
It's a great way to create engagement with the audience. Besides, it also has portable slideshows which can be easily played on Windows computer even if no presentation software is installed.
7. Create an eBook
TextMaker allows you to create e-books in EPUB format. However, this feature is only available in the Professional and NX Universal versions. If you use the Standard version, you can create PDF documents in PDF/A format that supports long-term preservation.
SoftMaker Office 2023 User Interface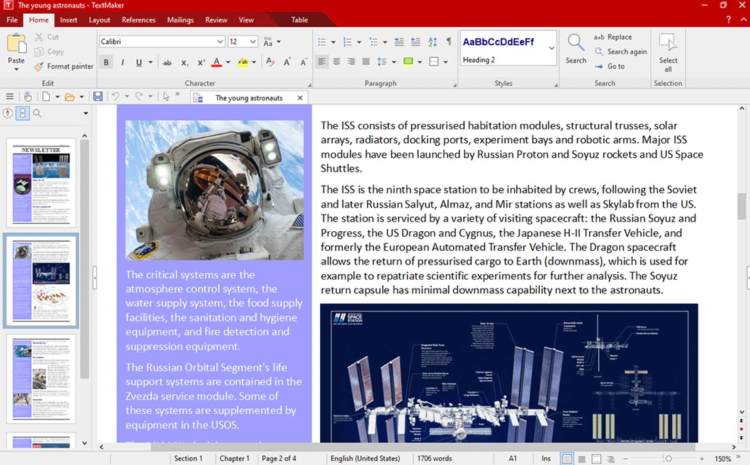 A clean and elegant interface is something you will find in SoftMaker Office 2023. It has an optional sidebar that lets you manage formatting features. Users can choose between a Microsoft-style ribbon and a classic toolbar interface. If you work with Microsoft, the first option may be easy to manage.
If you want to try something new, the classic interface has you covered. It can be a little frustrating at first, but once you get the hang of it, the classic toolbar can be fun. You can also customize the ribbon interface between native SoftMaker or traditional ribbon.
When you choose to use the traditional toolbar interface, it will remind you of older versions of the Microsoft Office suite. Despite the traditional style, it looks clean and elegant. It's an intuitive way to complete a wide range of tasks.
In summary, SoftMaker Office offers a professional experience for creating, editing and saving documents in all formats. It is fully compatible with Microsoft Office, allowing you to enjoy seamless document exchange without conversion. It also comes with powerful features to enhance your productivity.
Download SoftMaker Office 2023