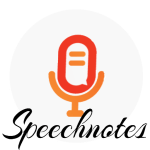 Speechnotes is a powerful voice-enabled online notepad designed to provide efficient design and clean implementation of users' ideas. Speechnote is ideal for writers, companies, and any other type of work that requires a lot of annotation. It has a transcription feature that allows users to transcribe as they dictate into the microphone.
Speechnotes characteristics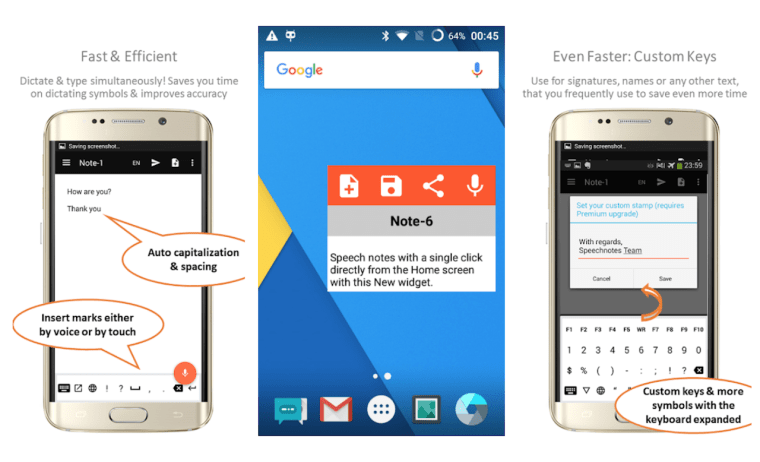 Affordability
Speechnotes is completely free to use. You don't have any packages to subscribe to before potential users can access it. The web-based version and the Windows version do not require any specific subscription before it is accessible. It can be used for free for an unlimited amount.
Integrated speech and punctuation recognition
Speechnotes works with Google's speech recognition technology, which allows the application to recognize the voices of different users at once. The amazing speech to text app also recognizes punctuation marks according to the way users record their voice and applies them where needed.
What is the best dictation software?
There are many types of dictation software that transcribe speech to text, but Speechnotes is still one of the best dictation software to use. Speechnotes is another easily accessible speech-to-text app for mobile devices and Windows devices. Interestingly, Speechnotes does not require the creation of an account or registration before using it. All you need to do is launch the app and select the microphone icon, then you are good to go.
Can I dictate to my computer?
Yes! Speechnote allows users to use the dictation application on their individual PC. It has the Windows version that can be accessed by using an Android emulator like Bluestacks and MEmu. It allows users to record their voice so far that their PC's microphone option is effective and works perfectly.
See also
How to Download Text Fairy for PC [Windows 11]
Is Speechnotes free?
Speechnote is absolutely free dictation software. It does not require any payment before potential users can access the application. You don't need to buy a subscription plan before you can access it. Unlike other dictation programs that ask users to pay before they can use them.
How to download Speechnotes on PC (Windows and Mac)
There are two different ways to use the Speechnotes application on Windows devices.
1. The web-based version
Speechnotes is a broad platform application that does not require users to download and install the mobile version of the software before they can use it. It has a web-based version in which it only requires users to run it through their browser. Users must visit the official website (www.speechnotes.co) to make use of the web-based version.
2. The Android version installed on the PC through the Android emulator software
Downloading and installing Speechnotes on PC is very easy. It requires one of the Android emulator programs to be installed on the PC. There is no specific system requirement to download and install Speechnotes on a PC. Speechnotes easily runs on a PC compared to any other device.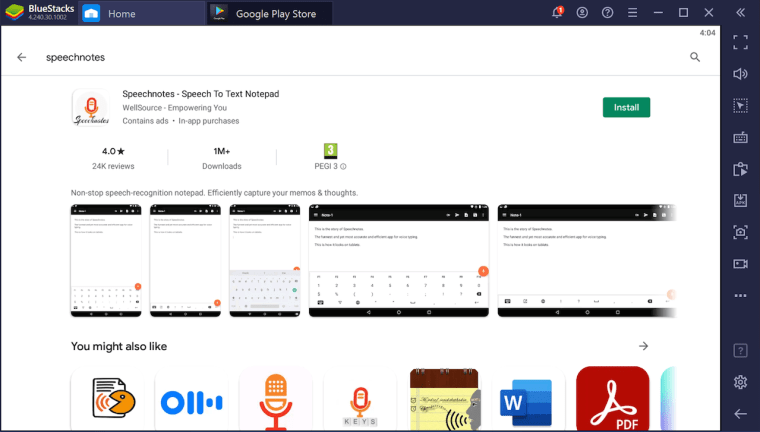 To download and install Speechnotes on a PC, you need to install an Android emulator software on your PC. What Android Emulator does is that it allows mobile-only apps to be launched on PC by recreating the phone's operating system on the computer.
Many users prefer using Bluestacks Android Emulator to any other type of Android emulator due to its graphical display and outstanding features. To install Bluestacks on your PC, visit www.bluestacks.com to download and install the Android Bluestacks emulator.
Find the downloaded file in your 'download folder' on your PC. Double tap on the file you downloaded to install 'BlueStacks Android Emulator' on your PC.
A configuration screen will appear showing you some instructions to follow for the installation. Follow the onscreen instructions to install Bluestacks Emulator on your PC in a few minutes.
After installation, a shortcut icon for the 'Bluestacks Emulator' will be created on the desktop start screen for quick and easy startup. Click the icon on the start screen of your desktop to start the Emulator.
After launching, locate and click the 'My App' button on the Bluestacks emulator screen.
Log into your Google PlayStore with your Google account login credentials. After successfully logging in, open the Google Play Store and use Bluestacks' built-in search engine to search for "Speechnotes" in the search bar.
One page will display the search result, find the Speechnotes application in the displayed search results, and click Install.
Please wait while Speechnotes will take a few minutes to install on your PC.
After a successful installation, click on Speechnotes on the BlueStacks home screen to launch the application and start using it.
See also
CamScanner for PC – Free Download for Windows 7, 8, 10 and Mac
Read also: How to install Note Recognizer on a Windows computer