The Epson WorkForce EC-C110 offers a great way to print effortlessly anywhere and anytime. The smallest color mobile printer is designed to meet your on-the-go printing needs, so it's lightweight and easy to carry.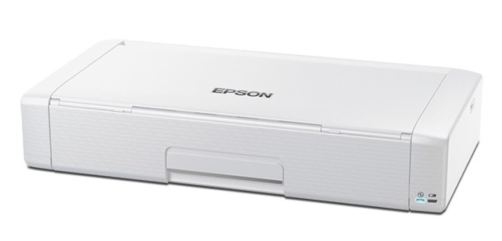 Despite its small size, this portable printer is powerful in handling a range of printing tasks. Whether you need to quickly print invoices, presentations or contracts, you've got your back. Plus, it comes with built-in wireless and Wi-Fi Direct for easier connection with compatible devices.
Epson WorkForce EC-C110 Driver
Epson WorkForce EC-C110 drivers are compatible with Windows 11 32 bit, Windows 11 64 bit, Windows 10 32 bit, Windows 10 64 bit, Windows 8 32 bit, Windows 8 64 bit, Windows 7 32 bit, Windows 7 64 bit, Windows XP 32-bit, Windows XP 64-bit, Mac OS X 10.10 Yosemite, Mac OS X 10.11 El Capitan, macOS 10.12 Sierra, macOS 10.13 High Sierra, macOS 10.14 Mojave, macOS 10.15 Catalina, macOS 11 Big Sur, macOS 12 Monterey and Linux . Download the Epson WorkForce EC-C110 driver below:
| Epson WorkForce EC-C110 Driver | Download link |
| --- | --- |
| For Windows 11 | To download |
| For Windows 10 | To download |
| For Windows 8 | To download |
| For Windows 7 | To download |
| For WinXP | To download |
| For macOS | To download |
| For Linux | To download |
| Download from its official website | Click here |
Epson WorkForce EC-C110 Manual
| Epson WorkForce EC-C110 Manual | Download link |
| --- | --- |
| Manual | To download |
| Warranty Statement for USA and Canada | To download |
| Download from its official website | Click on Right here |
Review of the Epson WorkForce EC-C110
Design and layout
Epson WorkForce EC-C110 is the lightest and smallest printer for people with high mobility. For easier transport, it measures 2.4″ x 12.2″ x 6.3″ (HWD) on storage and weighs only 3.5 pounds so you can easily slip this machine into your bag or briefcase .When not in use, saving the printer will not be a big problem.
Most Epson printers have a sleek design and this small model is no exception. It's made from high-quality hard plastic and finished with a glossy, all-white finish to emphasize its sleek look.
A 1.4-inch color LCD screen and arrow keys make setup and navigation easy. The clean control panel allows simple operation for quick printing on the go. Just lift the lid, load the paper and you're ready to print.
Printer specifications
This machine is powered by MicroPiezo inkjet with 4 color printing technology. With a high print resolution of up to 5760 x 1440 dpi, you can expect incredible output for various documents such as presentations, invoices and even photos.
Using AC power, the EC-C110 is rated at 6.7 pages per minute for black page and 3.8 pages per minute for color. On battery power, it can print up to 3.5 black pages per minute and 2 color pages per minute. This speed rating is sufficient for outdoor printing.
Moreover, borderless photo printing is also supported by this device. You can print a 4″ x 6″ borderless photo in about 77 seconds (max).
paper handling
Epson WorkForce EC-C110 is equipped with a rear feed tray that loads up to 20 sheets of plain paper. The same tray can hold up to 5 sheets of photo paper or 1 envelope. This low input paper capacity is acceptable for hassle-free printing on the go.
Recommendation:
Download uZip
Behind its small design, this printer supports a wide range of paper sizes. From 3.5″ x 5″ to 8.5″ x 14″, you can easily print a variety of documents for different purposes, including borderless printing. Plus, it lets you print on standard paper sizes like A4, A6, and Letter.
Printing on different types of paper is made easy with the EC-C110. Besides plain paper, it is compatible with many types of Epson paper such as Premium Paper, Glossy Paper, Photo Paper and Matte Paper. Choose your paper type and keep your business running.
Networking software
Both wired and wireless networking options are available in this mobile printer. Connect to your laptop using Hi-Speed ​​USB and enjoy a reliable connection. It also integrates Wi-Fi and Wi-Fi Direct for easier and faster connection to your smartphone.
What is amazing with this little device is the smart voice assistant feature. It supports voice-activated printing with Google Assistant and Amazon Alexa. Feel the convenience of hands-free printing anywhere and get things done.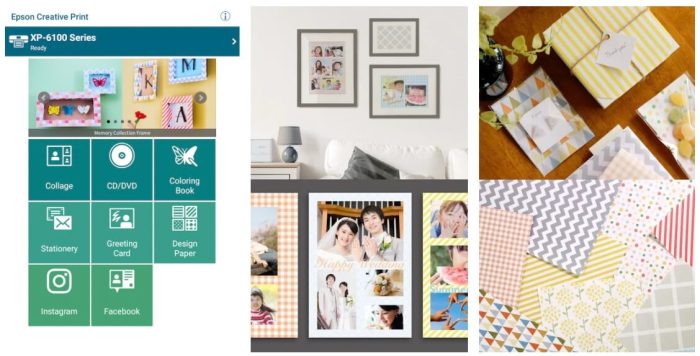 Additionally, Epson WorkForce EC-C110 comes with a number of software to enhance your printing experience, such as Epson Email Print and Epson Remote Print. There's also the Creative Print app for your creative projects.
Mobile printing capability
Mobile printing is a solution to your working freedom. By using this feature, you can expect easier printing directly from a smartphone. This is especially useful when you need to print a file or document saved on the phone's local drive.
What options are available? iPhone and iPad users can take advantage of all the benefits of Apple AirPrint to print directly from a mobile device. Android printing and Google Cloud Print are also available to handle this task.
Moreover, this portable machine supports Easy Photo Scan which allows you to scan any document from a mobile phone. You can print scanned files or save them to the cloud.
Ink and Cartridges
Four-color pigment-based inks promise high-quality results for text, photos and graphics. It uses two individual cartridges: a black cartridge and a tricolor cartridge (CMY) hidden inside the body.
This model is compatible with T215 cartridges. It is important to note that the printer only works with genuine Epson cartridges. Avoid using third-party cartridges for the best printing result.
Power supply and batteries
Designed to print on the go, this printer is both mains and battery operated. The battery is powerful enough to print up to 100 mono pages and 50 color pages. For your high mobility, it supports 5-minute quick charge for printing 5 black prints.
Enjoy fast, hassle-free printing anywhere, anytime with the Epson WorkForce EC-C110. The super light and small mobile printer is designed for easier transport. Simply choose between an external battery or mains power to operate it.