As we all know, a battery can only be charged up to 100%, at least for now this is the "limit" in physics.
But Microsoft has broken this physical limit in a ridiculous way.
Recently, a user posted on the Redditor forum and showed a screenshot of his desktop. In this screenshot, Windows 11 shows that your laptop battery has 115% power remaining.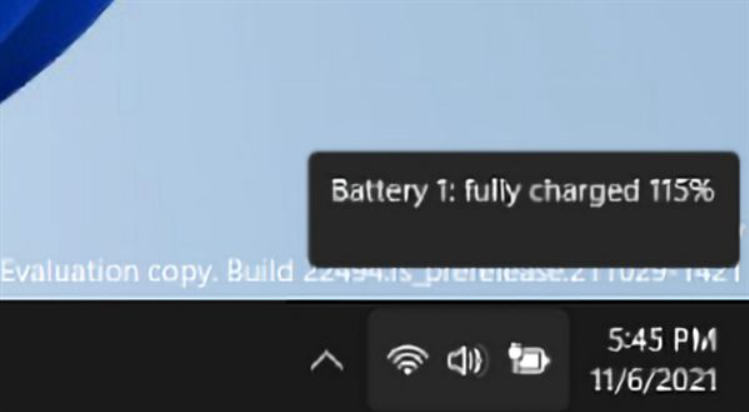 Coincidentally, another user also posted a screenshot of their desktop after viewing the post. The remaining battery power in the screenshot showed a figure of 104%.
These two users are reported to be on the Windows 11 Dev channel.
The Windows beta system is divided into three channels, Bate, Dev and Canary based on stability and update frequency. Bate updates every four weeks, with the highest stability, and Canary updates once a day, with the lowest stability.
The developer having problems this time updates once a week and its stability is relatively low compared to Bate.
Current Microsoft engineers have said that they have noticed this display error and have said that because they have received many reports of this error, Microsoft is investigating this problem.
At the same time, the engineer also stated that this bug is not a new bug and is also present in some older versions.
In the current latest Windows 11 developer release, Build 22494, Microsoft has fixed the bug that the tooltip appears in a random position on the taskbar. I don't know how long it will take to correct the error.